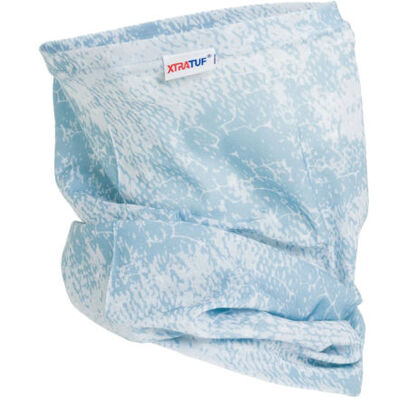 High performance gaiter provides protection and relief from the elements. Constructed from breathable 4-way stretch polyester, this gaiter can be worn multiple ways - around your neck, mouth and nose or as a headband.
The Coho Salmon design honors this incredible fish, its resilience and what that represents to fishermen and all who hail from the great State of Alaska.
This product is not intended for use as personal protective equipment (PPE).
100% Polyester
Breathable
Quick-drying
One Size Fits Most
Online Exclusive
Length - 17.32 inches
Width - 17.32 inches
Height - 11.42 inches
Breathable
100% polyester
One size fits most
Quick-drying
Length - 17.32 inches
Width - 17.32 inches
Height - 11.42 inches
Online Exclusive
MEN'S FOOTWEAR SIZE CHART
| U.S. | EUR | U.K. | IN | CM |
| --- | --- | --- | --- | --- |
| 2 | 33 | 1 | 8.1 | 20.6 |
| 2 1/2 | 33.5 | 1.5 | 8.3 | 21 |
| 3 | 34 | 2 | 8.4 | 21.3 |
| 3.5 | 35 | 2.5 | 8.6 | 21.8 |
| 4 | 35.5 | 3 | 8.7 | 22.1 |
| 4 1/2 | 36 | 3.5 | 8.9 | 22.6 |
| 5 | 37 | 4 | 9 | 22.9 |
| 5 1/2 | 37.5 | 4.5 | 9.2 | 23.3 |
| 6 | 38 | 5 | 9.3 | 23.5 |
| 6 1/2 | 39 | 5.5 | 9.5 | 24.1 |
| 7 | 39.5 | 6 | 9.6 | 24.4 |
| 7 1/2 | 40 | 6.5 | 9.8 | 24.8 |
| 8 | 41 | 7 | 9.9 | 25.4 |
| 8 1/2 | 41.5 | 7.5 | 10.1 | 25.7 |
| 9 | 42 | 8 | 10.3 | 26 |
| 9 1/2 | 42.5 | 8.5 | 10.4 | 26.7 |
| 10 | 43 | 9 | 10.6 | 27 |
| 10 1/2 | 44 | 9.5 | 10.8 | 27.3 |
| 11 | 44.5 | 11 | 10.9 | 27.9 |
| 11 1/2 | 45 | 10.5 | 11.1 | 28.3 |
| 12 | 46 | 11 | 11.3 | 28.6 |
| 12 1/2 | 46.5 | 11.5 | 11.4 | 29 |
| 13 | 47 | 12 | 11.6 | 29.4 |
| 13 1/2 | 48 | 12.5 | 11.8 | 30 |
| 14 | 49 | 13 | 11.9 | 30.2 |
| 14 1/2 | 49.5 | 13.5 | 12.1 | 30.7 |
| 15 | 50 | 14 | 12.2 | 31 |
| 15 1/2 | 50.5 | 14.5 | 12.4 | 31.5 |
| 16 | 51 | 15 | 12.5 | 31.8 |
| 16 1/2 | 51.5 | 15.5 | 12.7 | 32.3 |
| 17 | 52 | 16 | 12.8 | 32.5 |
| 17 1/2 | 52.5 | 16.5 | 12.9 | 32.8 |
WOMEN'S FOOTWEAR SIZE CHART
| U.S. | EUR | U.K. | IN | CM |
| --- | --- | --- | --- | --- |
| 4 | 35.5 | 2 | 8.2 | 20.8 |
| 4 1/2 | 36 | 2.5 | 8.4 | 21.3 |
| 5 | 37 | 3 | 8.5 | 21.6 |
| 5 1/2 | 37.5 | 3.5 | 8.8 | 22.2 |
| 6 | 38 | 4 | 8.9 | 22.5 |
| 6 1/2 | 39 | 4.5 | 9.1 | 23 |
| 7 | 39.5 | 5 | 9.3 | 23.5 |
| 7 1/2 | 40 | 5.5 | 9.4 | 23.8 |
| 8 | 41 | 7 | 9.5 | 24.1 |
| 8 1/2 | 41.5 | 6.5 | 9.7 | 24.6 |
| 9 | 42 | 7 | 9.9 | 25.1 |
| 9 1/2 | 42.5 | 7.5 | 10 | 25.4 |
| 10 | 43 | 8 | 10.2 | 25.9 |
| 10 1/2 | 44 | 9.5 | 10.3 | 26.2 |
| 11 | 44.5 | 10 | 10.5 | 26.7 |
| 11 1/2 | 45 | 9.5 | 10.7 | 27.1 |
| 12 | 46 | 10 | 10.9 | 27.6 |
TODDLER FOOTWEAR SIZE CHART (4-8)
| US | UK | EUR | IN | CM |
| --- | --- | --- | --- | --- |
| 4 | 3 | 19 | 4.5 | 11.4 |
| 4.5 | 3.5 | 20 | 4.6 | 11.7 |
| 5 | 4 | 20 | 4.8 | 12.1 |
| 5.5 | 4.5 | 21 | 5 | 12.7 |
| 6 | 5 | 22 | 5.1 | 13 |
| 6.5 | 5.5 | 22 | 5.2 | 13.3 |
| 7 | 6 | 23 | 5.5 | 14 |
| 7.5 | 6.5 | 23 | 5.6 | 14.3 |
| 8 | 7 | 24 | 5.8 | 14.6 |
Little Kid Footwear Size Chart (Sizes 8-13)
| US | UK | EUR | IN | CM |
| --- | --- | --- | --- | --- |
| 8 | 7 | 24 | 5.7 | 14.6 |
| 9 | 8 | 25 | 6.1 | 15.6 |
| 10 | 9 | 27 | 6.5 | 16.5 |
| 11 | 10 | 28 | 6.7 | 17.1 |
| 12 | 11 | 30 | 7.1 | 18.1 |
| 13 | 12 | 31 | 7.5 | 19.1 |
Big Kid Footwear Size Chart (Sizes 1-7)
| US | UK | EUR | IN | CM |
| --- | --- | --- | --- | --- |
| 1 | 13 | 32 | 7.8 | 19.7 |
| 2 | 1 | 33 | 8.1 | 20.6 |
| 3 | 2 | 34 | 8.5 | 21.6 |
| 4 | 3 | 36 | 8.7 | 22.2 |
| 5 | 4 | 37 | 9.1 | 23.2 |
| 6 | 5 | 38 | 9.5 | 24.1 |
| 7 | 6 | 39 | 9.8 | 24.8 |
bvseo_sdk, dw_cartridge, 18.2.0, p_sdk_3.2.0
CLOUD, getReviews, 1ms
reviews, product
bvseo-msg: Unsuccessful GET. status = 'SERVICE_UNAVAILABLE', msg = 'No callback was configured for service bazaarvoice.http'; Unsuccessful GET. status = 'SERVICE_UNAVAILABLE', msg = 'No callback was configured for service bazaarvoice.http';
bvseo_sdk, dw_cartridge, 18.2.0, p_sdk_3.2.0
CLOUD, getContent, 1ms
questions, product
bvseo-msg: Unsuccessful GET. status = 'SERVICE_UNAVAILABLE', msg = 'No callback was configured for service bazaarvoice.http';