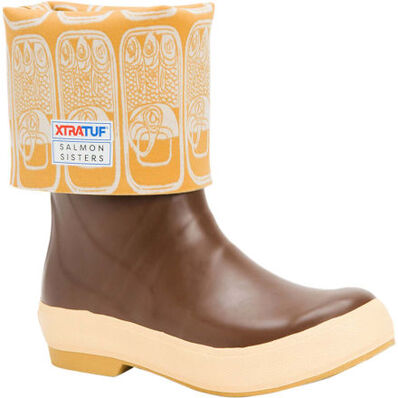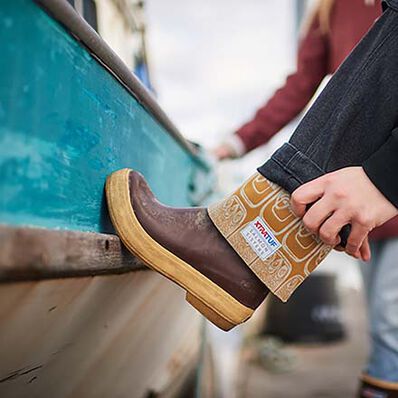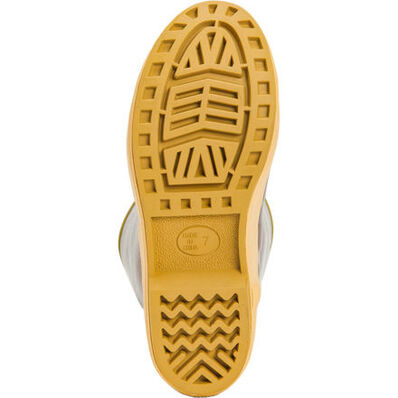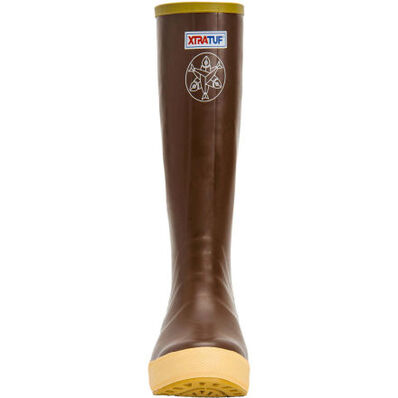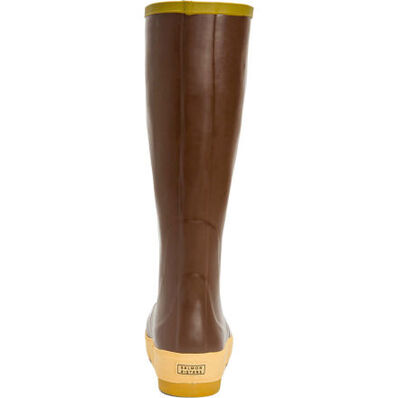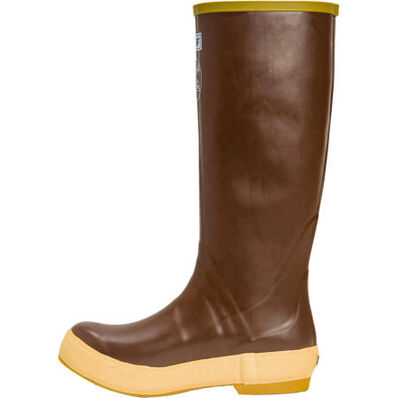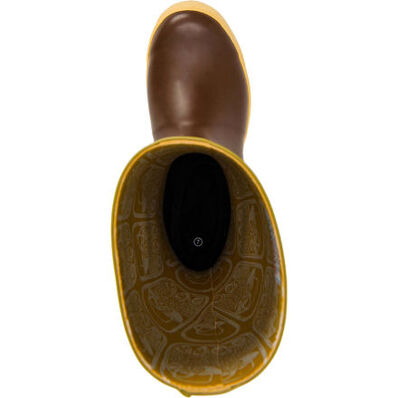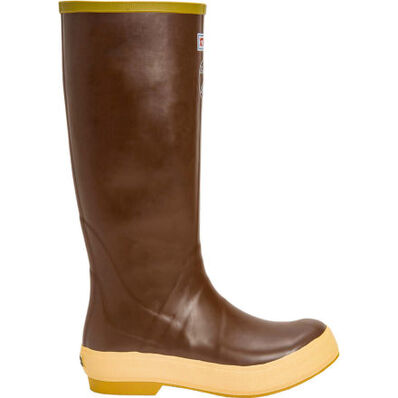 Our Legacy boot paired with original designs by two young Alaskan fisherman, born and inspired by the wilderness of Alaska and the sustainable fisheries of the North Pacific. Salmon Sisters products are designed in Alaska, inspired by nautical tradition, and made for a community of fishermen, adventurers, and ocean enthusiasts. Salmon Sisters strives to make their garments the ones you dress up, dress down, and get dirty because they're just too cool and comfy to take off.
The Tinned Fish Legacy Boot print is a homage to a staple seafood product in the history of Alaska's seafood industry and today's hardworking processors. "It has been fun to see tinned fish become more mainstream in the U.S., and to see people finding easy and delicious ways to eat fish out of a can. It's a staple in our family's pantry..." Emma Laukitis.
Recommend half sizes order up
100% Waterproof
Slip-Resistant Chevron Outsole
Acid Chemical Resistant
Viral Penetration Resistant per ASTM F1671 / F1671M - 13
Dual Outside and Inside Logos
Exclusive Salmon Sister Liner Print
Shaft Circumference is 11 inches and was taken from a size 7. There may be slight measurement variations based on size.
Designed Specifically for a Women's Fit
Approximately 5.3lbs
100% Waterproof

Acid Chemical Resistant

Slip-Resistant

Soft Toe

Slip-Resistant Chevron Outsole
100% Waterproof
Recommend half sizes order up
Acid Chemical Resistant
Viral Penetration Resistant per ASTM F1671 / F1671M - 13
Dual Outside and Inside Logos
Exclusive Salmon Sister Liner Print
Designed Specifically for a Women's Fit
Approximately 5.3lbs
Shaft Circumference is 11 inches and was taken from a womens size 7. There might be slight measurement variations based on size
MEN'S FOOTWEAR SIZE CHART
| U.S. | EUR | U.K. | IN | CM |
| --- | --- | --- | --- | --- |
| 2 | 33 | 1 | 8.1 | 20.6 |
| 2 1/2 | 33.5 | 1.5 | 8.3 | 21 |
| 3 | 34 | 2 | 8.4 | 21.3 |
| 3.5 | 35 | 2.5 | 8.6 | 21.8 |
| 4 | 35.5 | 3 | 8.7 | 22.1 |
| 4 1/2 | 36 | 3.5 | 8.9 | 22.6 |
| 5 | 37 | 4 | 9 | 22.9 |
| 5 1/2 | 37.5 | 4.5 | 9.2 | 23.3 |
| 6 | 38 | 5 | 9.3 | 23.5 |
| 6 1/2 | 39 | 5.5 | 9.5 | 24.1 |
| 7 | 39.5 | 6 | 9.6 | 24.4 |
| 7 1/2 | 40 | 6.5 | 9.8 | 24.8 |
| 8 | 41 | 7 | 9.9 | 25.4 |
| 8 1/2 | 41.5 | 7.5 | 10.1 | 25.7 |
| 9 | 42 | 8 | 10.3 | 26 |
| 9 1/2 | 42.5 | 8.5 | 10.4 | 26.7 |
| 10 | 43 | 9 | 10.6 | 27 |
| 10 1/2 | 44 | 9.5 | 10.8 | 27.3 |
| 11 | 44.5 | 11 | 10.9 | 27.9 |
| 11 1/2 | 45 | 10.5 | 11.1 | 28.3 |
| 12 | 46 | 11 | 11.3 | 28.6 |
| 12 1/2 | 46.5 | 11.5 | 11.4 | 29 |
| 13 | 47 | 12 | 11.6 | 29.4 |
| 13 1/2 | 48 | 12.5 | 11.8 | 30 |
| 14 | 49 | 13 | 11.9 | 30.2 |
| 14 1/2 | 49.5 | 13.5 | 12.1 | 30.7 |
| 15 | 50 | 14 | 12.2 | 31 |
| 15 1/2 | 50.5 | 14.5 | 12.4 | 31.5 |
| 16 | 51 | 15 | 12.5 | 31.8 |
| 16 1/2 | 51.5 | 15.5 | 12.7 | 32.3 |
| 17 | 52 | 16 | 12.8 | 32.5 |
| 17 1/2 | 52.5 | 16.5 | 12.9 | 32.8 |
WOMEN'S FOOTWEAR SIZE CHART
| U.S. | EUR | U.K. | IN | CM |
| --- | --- | --- | --- | --- |
| 4 | 35.5 | 2 | 8.2 | 20.8 |
| 4 1/2 | 36 | 2.5 | 8.4 | 21.3 |
| 5 | 37 | 3 | 8.5 | 21.6 |
| 5 1/2 | 37.5 | 3.5 | 8.8 | 22.2 |
| 6 | 38 | 4 | 8.9 | 22.5 |
| 6 1/2 | 39 | 4.5 | 9.1 | 23 |
| 7 | 39.5 | 5 | 9.3 | 23.5 |
| 7 1/2 | 40 | 5.5 | 9.4 | 23.8 |
| 8 | 41 | 7 | 9.5 | 24.1 |
| 8 1/2 | 41.5 | 6.5 | 9.7 | 24.6 |
| 9 | 42 | 7 | 9.9 | 25.1 |
| 9 1/2 | 42.5 | 7.5 | 10 | 25.4 |
| 10 | 43 | 8 | 10.2 | 25.9 |
| 10 1/2 | 44 | 9.5 | 10.3 | 26.2 |
| 11 | 44.5 | 10 | 10.5 | 26.7 |
| 11 1/2 | 45 | 9.5 | 10.7 | 27.1 |
| 12 | 46 | 10 | 10.9 | 27.6 |
TODDLER FOOTWEAR SIZE CHART (4-8)
| US | UK | EUR | IN | CM |
| --- | --- | --- | --- | --- |
| 4 | 3 | 19 | 4.5 | 11.4 |
| 4.5 | 3.5 | 20 | 4.6 | 11.7 |
| 5 | 4 | 20 | 4.8 | 12.1 |
| 5.5 | 4.5 | 21 | 5 | 12.7 |
| 6 | 5 | 22 | 5.1 | 13 |
| 6.5 | 5.5 | 22 | 5.2 | 13.3 |
| 7 | 6 | 23 | 5.5 | 14 |
| 7.5 | 6.5 | 23 | 5.6 | 14.3 |
| 8 | 7 | 24 | 5.8 | 14.6 |
Little Kid Footwear Size Chart (Sizes 8-13)
| US | UK | EUR | IN | CM |
| --- | --- | --- | --- | --- |
| 8 | 7 | 24 | 5.7 | 14.6 |
| 9 | 8 | 25 | 6.1 | 15.6 |
| 10 | 9 | 27 | 6.5 | 16.5 |
| 11 | 10 | 28 | 6.7 | 17.1 |
| 12 | 11 | 30 | 7.1 | 18.1 |
| 13 | 12 | 31 | 7.5 | 19.1 |
Big Kid Footwear Size Chart (Sizes 1-7)
| US | UK | EUR | IN | CM |
| --- | --- | --- | --- | --- |
| 1 | 13 | 32 | 7.8 | 19.7 |
| 2 | 1 | 33 | 8.1 | 20.6 |
| 3 | 2 | 34 | 8.5 | 21.6 |
| 4 | 3 | 36 | 8.7 | 22.2 |
| 5 | 4 | 37 | 9.1 | 23.2 |
| 6 | 5 | 38 | 9.5 | 24.1 |
| 7 | 6 | 39 | 9.8 | 24.8 |
bvseo_sdk, dw_cartridge, 18.2.0, p_sdk_3.2.0
CLOUD, getReviews, 0ms
reviews, product
bvseo-msg: Unsuccessful GET. status = 'SERVICE_UNAVAILABLE', msg = 'No callback was configured for service bazaarvoice.http'; Unsuccessful GET. status = 'SERVICE_UNAVAILABLE', msg = 'No callback was configured for service bazaarvoice.http';
bvseo_sdk, dw_cartridge, 18.2.0, p_sdk_3.2.0
CLOUD, getContent, 1ms
questions, product
bvseo-msg: Unsuccessful GET. status = 'SERVICE_UNAVAILABLE', msg = 'No callback was configured for service bazaarvoice.http';