The Best Work Boots of 2021 by Steve Graepel on February 17th 2021.
Manual labor can be hard on the feet. But don't worry. We rounded up the best work boots so you can carefully tread over sharps, hot surfaces, high voltage, and dangerous objects — or just stand on a hard surface for hours at a time.

Like any tool, there's a right boot for the job. The work boot balances the competing priorities of comfort and utility. But nobody wants to work all day in a big, heavy boot. Most of us will sacrifice comfort to get utility, but no more than necessary.

Even if you're careful, heavy materials can unexpectedly fall and crush a foot. The only thing that sits between you and workman's comp is a work boot. Proper footwear is a step toward a long and healthy career.

We sent a crop of the latest work boots out into the field this year to see which rose to the task. We've categorized boots into steel-toe, safety-toe, and soft-toe varieties. To better evaluate each boot's utility, we rated each on a "utility scale," measuring a boot's casual wearability against its utility.

From weekend chore-masters to heavy-duty diesel drivers, here are the best work boots of 2021.
Best Waterproof Work Boot: XTRATUF Safety Toe Legacy 2.0 15"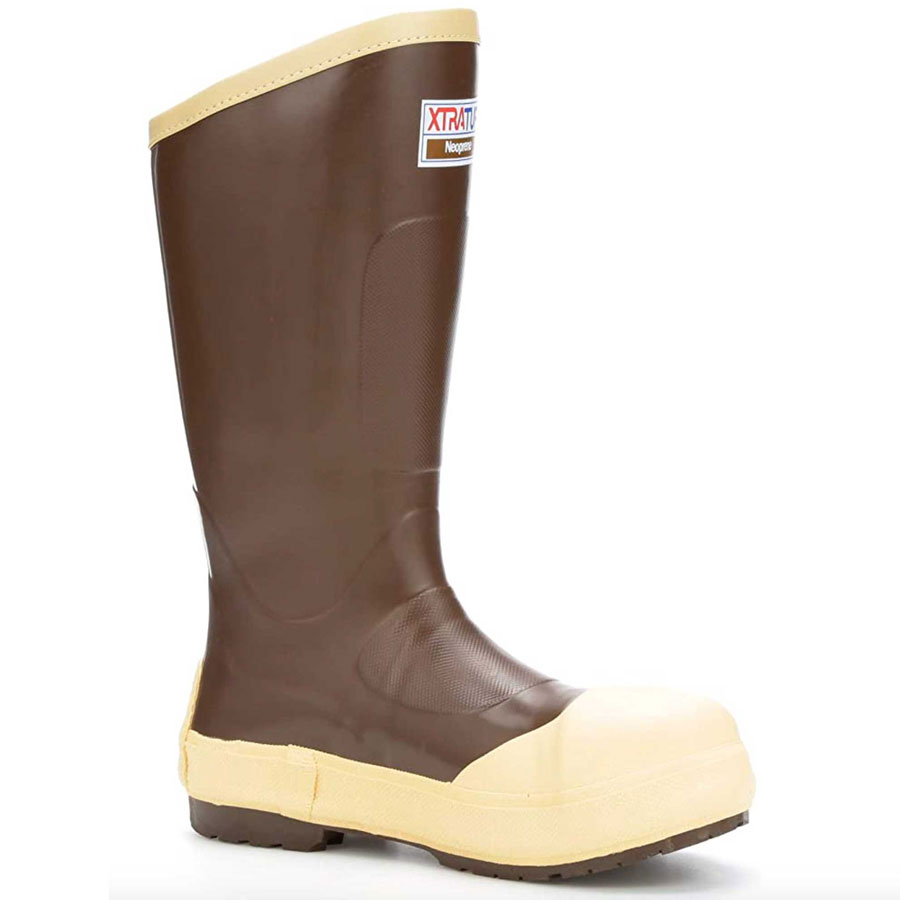 If there were a "state boot" of Alaska, it would be the XTRATUF. XTRATUF makes several models of boots, all perfectly suitable for the torrential end-of-days. We've used the thin neoprene Legacy 15″ a ton and love it for wet weather, where dryness trumps everything else. In fact, the original Legacy 15″ has made our wet-weather winter boot of choice several times. We like the Legacy 15″ 2.0 version for its added shaft circumference and upgraded traction.

True to the original Legacy, the boot rides over a chunky, inverted chevron outsole. The reversed tread pattern provides more contact with the surface. Newly designed siping on the 2.0 is designed to pull water out from under the 2.0. Boasting a new SRC-rated, the 2.0 meets the highest specification for safety footwear. This boot has excellent traction on wet surfaces.

While the original Legacy had a straight cut across the top, the 2.0 drops down in the back. This gives the boot an extra two inches in the shaft, making it easier to slide the foot into. It also reduces chafing on the calf. There's a little play over the top of the foot, but the heel seats firmly in the back.

The Legacy 2.0 is available in a soft-toe boot ($150), an insulated boot ($150), and with a composite safety toe ($155). For wet work around heavy crab pots and fast-moving Hysters, the composite toe is a great choice. For more pedestrian wet-weather work, the soft toe is a little more comfortable.

Utility scale: 90% utility / 10% casual. Best for working on wet decks
Toe: Composite toe tested to meet ASTM F2413-11 M/75 C/75
Height: 15″
Midsole: lightweight, compression-resisting midsole providing 50% more energy return than standard EVA foam
Outsole: SRC slip-resistant
Waterproof: Yes
Welt: Cemented
Read the full article here.
Shop the full Legacy Collection here.