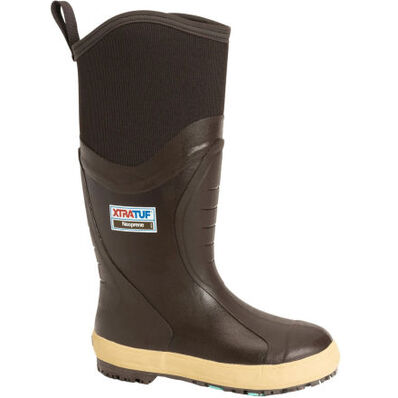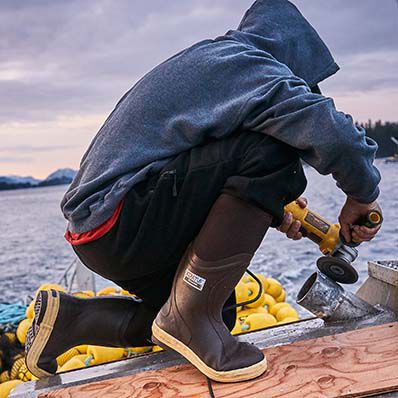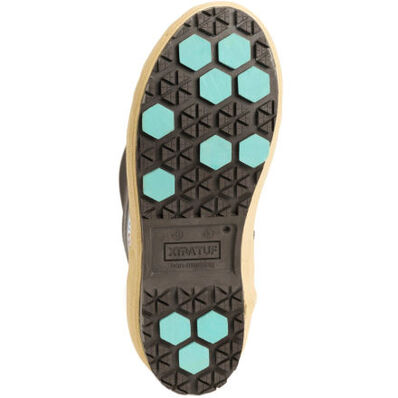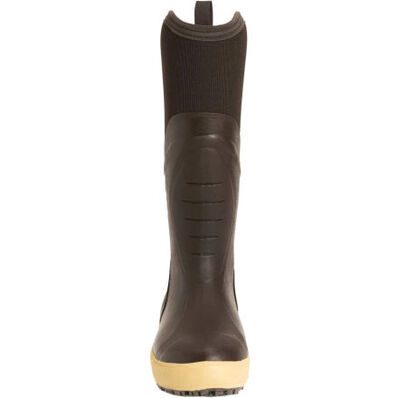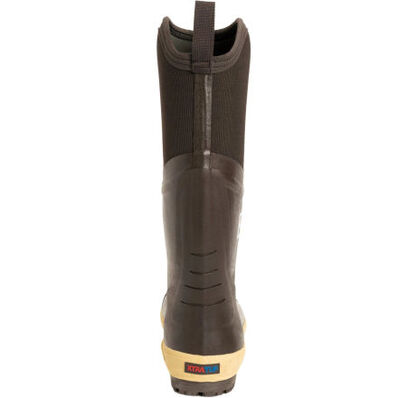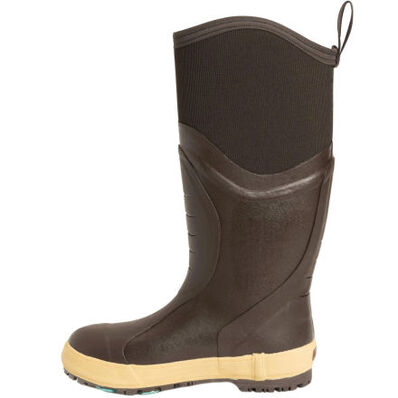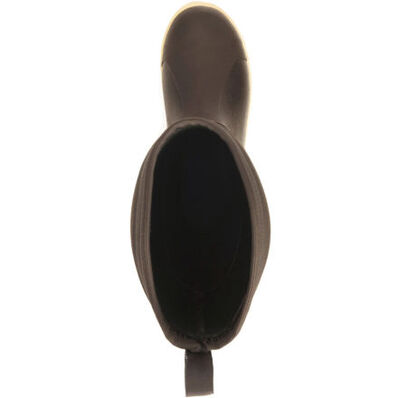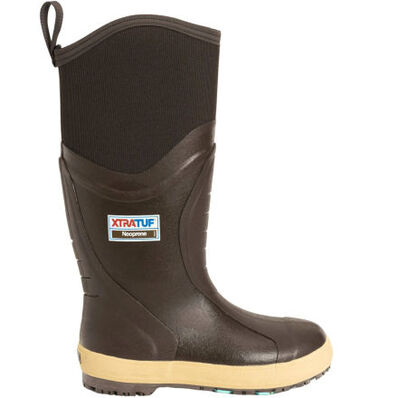 Always looking for ways to keep fishermen more secure and comfortable at sea, XTRATUF® introduces GlacierTrek™ PRO, an outsole compound that features SRC slip-resistance technology for superior traction. It is the ultimate compound for exceptional grip. The pods are in contrasting color to the outsole, visually demonstrating the technology.
Designed for cold weather fishing, both on deck and below, the Swingsaw is a game changing boot for the commercial fishing industry. It features insulated waterproof construction on a GlacierTrek™ PRO outsole for superior traction. This dynamic outsole construction provides stability even when the deck conditions change quickly and drastically.
This product is designed for use on various surfaces and terrains including wet ice. It will not prevent slipping in all occasions. Always tread cautiously.
Recommend half sizes order up
Please note this product is sized for men. Women should size 1 to 2 sizes down
100% Waterproof
HDR Rubber Upper for Oil/Acid and Chemical Resistance
EVA insole for added comfort
GlacierTrek™ PRO non-marking SRC-Rated Outsole Provides Excellent Slip Resistance
4-way stretch mesh covered 5mm Neoprene Bootie is Comfort Rated to -20°F

Shaft circumference is 13 inches and was taken from a size 9. There may be slight measurement variations based on size.

ASTM F2892-18 M H
Approximately 5.89 lbs
100% Waterproof

Oil Resistant

Acid Chemical Resistant

Slip-Resistant

SRC

Glacier Trek™ Pro

Temperature Rated

Soft Toe

Recommend half sizes order up
100% Waterproof
Shaft circumference is 13 inches and was taken from a size 9. There may be slight measurement variations based on size.
Please note this product is sized for men. Women should size 1 to 2 sizes down
HDR Rubber Upper for Oil/Acid and Chemical Resistance
EVA insole for added comfort
GlacierTrek® PRO non-marking SRC-Rated Outsole Provides Excellent Slip Resistance
4-way stretch mesh covered 5mm Neoprene Bootie is Comfort Rated to -2°F
ASTM F2892-18 M H
Approximately 5.89 lbs
MEN'S FOOTWEAR SIZE CHART
| U.S. | EUR | U.K. | IN | CM |
| --- | --- | --- | --- | --- |
| 2 | 33 | 1 | 8.1 | 20.6 |
| 2 1/2 | 33.5 | 1.5 | 8.3 | 21 |
| 3 | 34 | 2 | 8.4 | 21.3 |
| 3.5 | 35 | 2.5 | 8.6 | 21.8 |
| 4 | 35.5 | 3 | 8.7 | 22.1 |
| 4 1/2 | 36 | 3.5 | 8.9 | 22.6 |
| 5 | 37 | 4 | 9 | 22.9 |
| 5 1/2 | 37.5 | 4.5 | 9.2 | 23.3 |
| 6 | 38 | 5 | 9.3 | 23.5 |
| 6 1/2 | 39 | 5.5 | 9.5 | 24.1 |
| 7 | 39.5 | 6 | 9.6 | 24.4 |
| 7 1/2 | 40 | 6.5 | 9.8 | 24.8 |
| 8 | 41 | 7 | 9.9 | 25.4 |
| 8 1/2 | 41.5 | 7.5 | 10.1 | 25.7 |
| 9 | 42 | 8 | 10.3 | 26 |
| 9 1/2 | 42.5 | 8.5 | 10.4 | 26.7 |
| 10 | 43 | 9 | 10.6 | 27 |
| 10 1/2 | 44 | 9.5 | 10.8 | 27.3 |
| 11 | 44.5 | 11 | 10.9 | 27.9 |
| 11 1/2 | 45 | 10.5 | 11.1 | 28.3 |
| 12 | 46 | 11 | 11.3 | 28.6 |
| 12 1/2 | 46.5 | 11.5 | 11.4 | 29 |
| 13 | 47 | 12 | 11.6 | 29.4 |
| 13 1/2 | 48 | 12.5 | 11.8 | 30 |
| 14 | 49 | 13 | 11.9 | 30.2 |
| 14 1/2 | 49.5 | 13.5 | 12.1 | 30.7 |
| 15 | 50 | 14 | 12.2 | 31 |
| 15 1/2 | 50.5 | 14.5 | 12.4 | 31.5 |
| 16 | 51 | 15 | 12.5 | 31.8 |
| 16 1/2 | 51.5 | 15.5 | 12.7 | 32.3 |
| 17 | 52 | 16 | 12.8 | 32.5 |
| 17 1/2 | 52.5 | 16.5 | 12.9 | 32.8 |
WOMEN'S FOOTWEAR SIZE CHART
| U.S. | EUR | U.K. | IN | CM |
| --- | --- | --- | --- | --- |
| 4 | 35.5 | 2 | 8.2 | 20.8 |
| 4 1/2 | 36 | 2.5 | 8.4 | 21.3 |
| 5 | 37 | 3 | 8.5 | 21.6 |
| 5 1/2 | 37.5 | 3.5 | 8.8 | 22.2 |
| 6 | 38 | 4 | 8.9 | 22.5 |
| 6 1/2 | 39 | 4.5 | 9.1 | 23 |
| 7 | 39.5 | 5 | 9.3 | 23.5 |
| 7 1/2 | 40 | 5.5 | 9.4 | 23.8 |
| 8 | 41 | 7 | 9.5 | 24.1 |
| 8 1/2 | 41.5 | 6.5 | 9.7 | 24.6 |
| 9 | 42 | 7 | 9.9 | 25.1 |
| 9 1/2 | 42.5 | 7.5 | 10 | 25.4 |
| 10 | 43 | 8 | 10.2 | 25.9 |
| 10 1/2 | 44 | 9.5 | 10.3 | 26.2 |
| 11 | 44.5 | 10 | 10.5 | 26.7 |
| 11 1/2 | 45 | 9.5 | 10.7 | 27.1 |
| 12 | 46 | 10 | 10.9 | 27.6 |
TODDLER FOOTWEAR SIZE CHART (4-8)
| US | UK | EUR | IN | CM |
| --- | --- | --- | --- | --- |
| 4 | 3 | 19 | 4.5 | 11.4 |
| 4.5 | 3.5 | 20 | 4.6 | 11.7 |
| 5 | 4 | 20 | 4.8 | 12.1 |
| 5.5 | 4.5 | 21 | 5 | 12.7 |
| 6 | 5 | 22 | 5.1 | 13 |
| 6.5 | 5.5 | 22 | 5.2 | 13.3 |
| 7 | 6 | 23 | 5.5 | 14 |
| 7.5 | 6.5 | 23 | 5.6 | 14.3 |
| 8 | 7 | 24 | 5.8 | 14.6 |
Little Kid Footwear Size Chart (Sizes 8-13)
| US | UK | EUR | IN | CM |
| --- | --- | --- | --- | --- |
| 8 | 7 | 24 | 5.7 | 14.6 |
| 9 | 8 | 25 | 6.1 | 15.6 |
| 10 | 9 | 27 | 6.5 | 16.5 |
| 11 | 10 | 28 | 6.7 | 17.1 |
| 12 | 11 | 30 | 7.1 | 18.1 |
| 13 | 12 | 31 | 7.5 | 19.1 |
Big Kid Footwear Size Chart (Sizes 1-7)
| US | UK | EUR | IN | CM |
| --- | --- | --- | --- | --- |
| 1 | 13 | 32 | 7.8 | 19.7 |
| 2 | 1 | 33 | 8.1 | 20.6 |
| 3 | 2 | 34 | 8.5 | 21.6 |
| 4 | 3 | 36 | 8.7 | 22.2 |
| 5 | 4 | 37 | 9.1 | 23.2 |
| 6 | 5 | 38 | 9.5 | 24.1 |
| 7 | 6 | 39 | 9.8 | 24.8 |
bvseo_sdk, dw_cartridge, 18.2.0, p_sdk_3.2.0
CLOUD, getReviews, 0ms
reviews, product
bvseo-msg: Unsuccessful GET. status = 'SERVICE_UNAVAILABLE', msg = 'No callback was configured for service bazaarvoice.http'; Unsuccessful GET. status = 'SERVICE_UNAVAILABLE', msg = 'No callback was configured for service bazaarvoice.http';
bvseo_sdk, dw_cartridge, 18.2.0, p_sdk_3.2.0
CLOUD, getContent, 1ms
questions, product
bvseo-msg: Unsuccessful GET. status = 'SERVICE_UNAVAILABLE', msg = 'No callback was configured for service bazaarvoice.http';