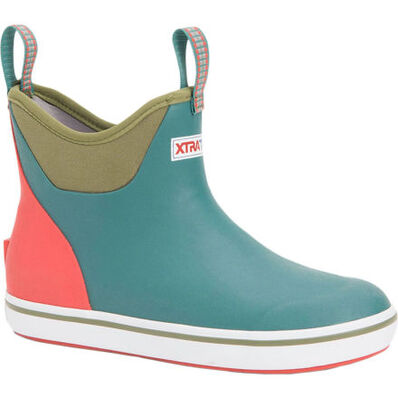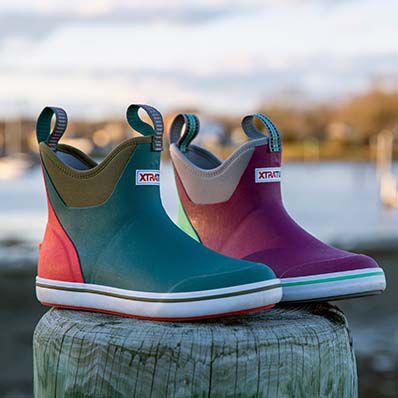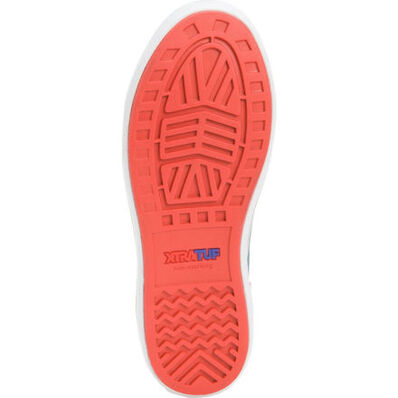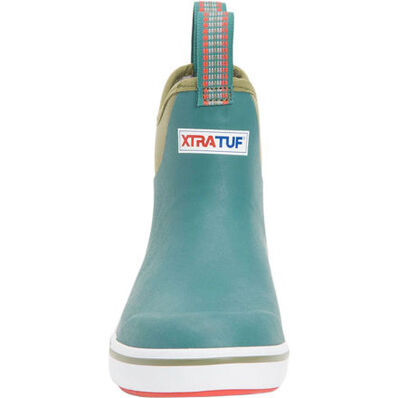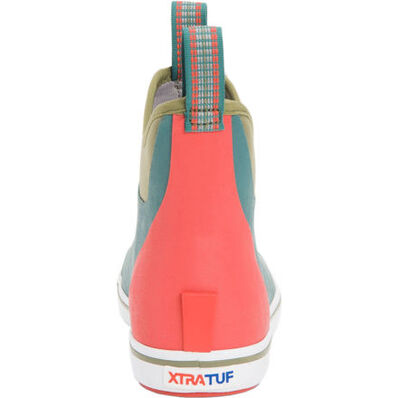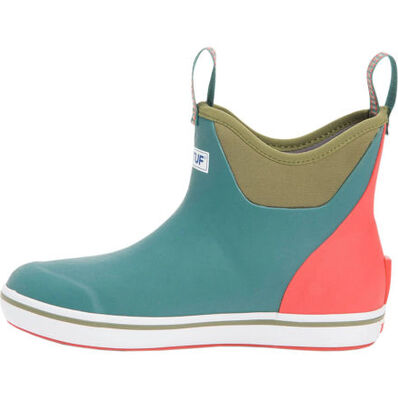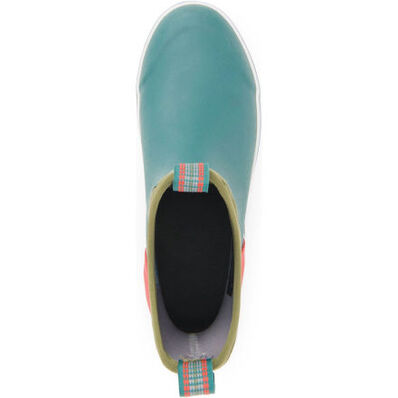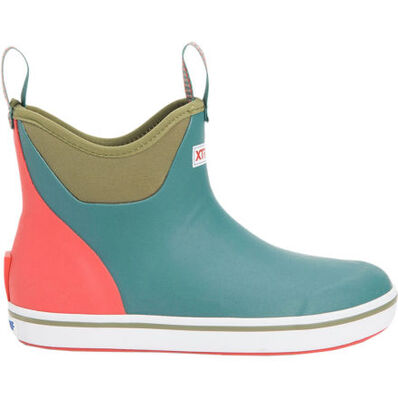 The Buoy Pack was inspired by the flotation devices that help guide us through safe passageways, and the marker buoys and boat fenders used by commercial fishermen and pleasure boaters around the world. This style features a Chinois Green boot with a Crockery goring and a Cayenne heel accent. This lightweight silhouette has the same XTRATUF® non-marking, slip resistant Chevron outsole as our iconic Legacy Boot, worn by commercial fisherman in Alaska. It provides protection from wet surfaces with slip-on-and-go convenience that can be worn on or off the boat offering 100% Waterproof protection.
Limited Edition: Buoy Pack
Recommend half sizes order up
100% Waterproof
Slip-Resistant Chevron Outsole
XPRESSCOOL® Liner
Pull-On Tabs
Toe Box Height 1.13 inches
Shaft Circumference 11.69 inches
Approximately 3.16lbs
Measurements were taken from a size 7. There may be slight variations based on size.
100% Waterproof

XPRESSCOOL™

Slip-Resistant

Soft Toe

Slip-Resistant Chevron Outsole
Recommend half sizes order up
XPRESSCOOL® Liner
Pull-On Tabs
Approximately 3.16lbs
Limited Edition: Buoy Pack
Toe Box Height 1.13 inches
Shaft Circumference 11.69 inches
Measurements were taken from a size 7. There may be slight variations based on size.
100% Waterproof
MEN'S FOOTWEAR SIZE CHART
| U.S. | EUR | U.K. | IN | CM |
| --- | --- | --- | --- | --- |
| 2 | 33 | 1 | 8.1 | 20.6 |
| 2 1/2 | 33.5 | 1.5 | 8.3 | 21 |
| 3 | 34 | 2 | 8.4 | 21.3 |
| 3.5 | 35 | 2.5 | 8.6 | 21.8 |
| 4 | 35.5 | 3 | 8.7 | 22.1 |
| 4 1/2 | 36 | 3.5 | 8.9 | 22.6 |
| 5 | 37 | 4 | 9 | 22.9 |
| 5 1/2 | 37.5 | 4.5 | 9.2 | 23.3 |
| 6 | 38 | 5 | 9.3 | 23.5 |
| 6 1/2 | 39 | 5.5 | 9.5 | 24.1 |
| 7 | 39.5 | 6 | 9.6 | 24.4 |
| 7 1/2 | 40 | 6.5 | 9.8 | 24.8 |
| 8 | 41 | 7 | 9.9 | 25.4 |
| 8 1/2 | 41.5 | 7.5 | 10.1 | 25.7 |
| 9 | 42 | 8 | 10.3 | 26 |
| 9 1/2 | 42.5 | 8.5 | 10.4 | 26.7 |
| 10 | 43 | 9 | 10.6 | 27 |
| 10 1/2 | 44 | 9.5 | 10.8 | 27.3 |
| 11 | 44.5 | 11 | 10.9 | 27.9 |
| 11 1/2 | 45 | 10.5 | 11.1 | 28.3 |
| 12 | 46 | 11 | 11.3 | 28.6 |
| 12 1/2 | 46.5 | 11.5 | 11.4 | 29 |
| 13 | 47 | 12 | 11.6 | 29.4 |
| 13 1/2 | 48 | 12.5 | 11.8 | 30 |
| 14 | 49 | 13 | 11.9 | 30.2 |
| 14 1/2 | 49.5 | 13.5 | 12.1 | 30.7 |
| 15 | 50 | 14 | 12.2 | 31 |
| 15 1/2 | 50.5 | 14.5 | 12.4 | 31.5 |
| 16 | 51 | 15 | 12.5 | 31.8 |
| 16 1/2 | 51.5 | 15.5 | 12.7 | 32.3 |
| 17 | 52 | 16 | 12.8 | 32.5 |
| 17 1/2 | 52.5 | 16.5 | 12.9 | 32.8 |
WOMEN'S FOOTWEAR SIZE CHART
| U.S. | EUR | U.K. | IN | CM |
| --- | --- | --- | --- | --- |
| 4 | 35.5 | 2 | 8.2 | 20.8 |
| 4 1/2 | 36 | 2.5 | 8.4 | 21.3 |
| 5 | 37 | 3 | 8.5 | 21.6 |
| 5 1/2 | 37.5 | 3.5 | 8.8 | 22.2 |
| 6 | 38 | 4 | 8.9 | 22.5 |
| 6 1/2 | 39 | 4.5 | 9.1 | 23 |
| 7 | 39.5 | 5 | 9.3 | 23.5 |
| 7 1/2 | 40 | 5.5 | 9.4 | 23.8 |
| 8 | 41 | 7 | 9.5 | 24.1 |
| 8 1/2 | 41.5 | 6.5 | 9.7 | 24.6 |
| 9 | 42 | 7 | 9.9 | 25.1 |
| 9 1/2 | 42.5 | 7.5 | 10 | 25.4 |
| 10 | 43 | 8 | 10.2 | 25.9 |
| 10 1/2 | 44 | 9.5 | 10.3 | 26.2 |
| 11 | 44.5 | 10 | 10.5 | 26.7 |
| 11 1/2 | 45 | 9.5 | 10.7 | 27.1 |
| 12 | 46 | 10 | 10.9 | 27.6 |
TODDLER FOOTWEAR SIZE CHART (4-8)
| US | UK | EUR | IN | CM |
| --- | --- | --- | --- | --- |
| 4 | 3 | 19 | 4.5 | 11.4 |
| 4.5 | 3.5 | 20 | 4.6 | 11.7 |
| 5 | 4 | 20 | 4.8 | 12.1 |
| 5.5 | 4.5 | 21 | 5 | 12.7 |
| 6 | 5 | 22 | 5.1 | 13 |
| 6.5 | 5.5 | 22 | 5.2 | 13.3 |
| 7 | 6 | 23 | 5.5 | 14 |
| 7.5 | 6.5 | 23 | 5.6 | 14.3 |
| 8 | 7 | 24 | 5.8 | 14.6 |
Little Kid Footwear Size Chart (Sizes 8-13)
| US | UK | EUR | IN | CM |
| --- | --- | --- | --- | --- |
| 8 | 7 | 24 | 5.7 | 14.6 |
| 9 | 8 | 25 | 6.1 | 15.6 |
| 10 | 9 | 27 | 6.5 | 16.5 |
| 11 | 10 | 28 | 6.7 | 17.1 |
| 12 | 11 | 30 | 7.1 | 18.1 |
| 13 | 12 | 31 | 7.5 | 19.1 |
Big Kid Footwear Size Chart (Sizes 1-7)
| US | UK | EUR | IN | CM |
| --- | --- | --- | --- | --- |
| 1 | 13 | 32 | 7.8 | 19.7 |
| 2 | 1 | 33 | 8.1 | 20.6 |
| 3 | 2 | 34 | 8.5 | 21.6 |
| 4 | 3 | 36 | 8.7 | 22.2 |
| 5 | 4 | 37 | 9.1 | 23.2 |
| 6 | 5 | 38 | 9.5 | 24.1 |
| 7 | 6 | 39 | 9.8 | 24.8 |
bvseo_sdk, dw_cartridge, 18.2.0, p_sdk_3.2.0
CLOUD, getReviews, 1ms
reviews, product
bvseo-msg: Unsuccessful GET. status = 'SERVICE_UNAVAILABLE', msg = 'No callback was configured for service bazaarvoice.http.bot'; Unsuccessful GET. status = 'SERVICE_UNAVAILABLE', msg = 'No callback was configured for service bazaarvoice.http.bot';
bvseo_sdk, dw_cartridge, 18.2.0, p_sdk_3.2.0
CLOUD, getContent, 0ms
questions, product
bvseo-msg: Unsuccessful GET. status = 'SERVICE_UNAVAILABLE', msg = 'No callback was configured for service bazaarvoice.http.bot';